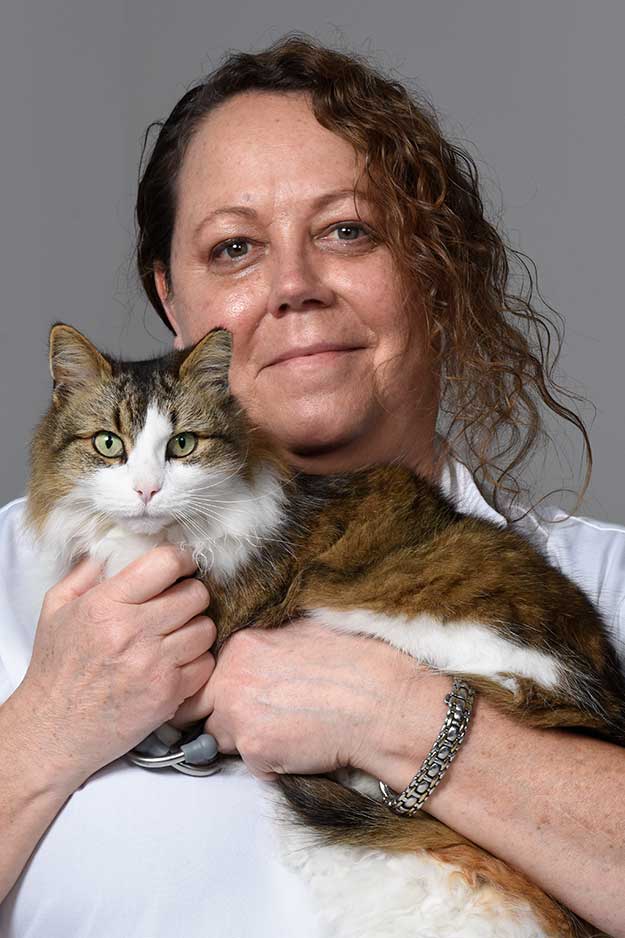 Dr. Melissa Behrens, DVM
Dr. Behrens is a general practitioner who has been with Randolph Animal Hospital since August of 2004. She earned her Bachelor of Science in Pre-Veterinary Science from Michigan State University and received her Doctorate in Veterinary Medicine from Michigan State University as well.
Asked about when she first decided to become a veterinarian, Dr. Behrens says she arrived home from preschool one day and announced to her parents, "I am going to become a veterinarian and travel to Africa." She then added, "I saw the veterinarian part through, but I still would like to visit Africa!"
Dr. Behrens grew up in Walworth, Wisconsin, as an only child with her dog and cats acting as her brothers and sisters. Then at age 12, after the death of her dog and her interactions with the family's veterinarian, she realized how much she truly wanted to devote her life to help the pets and the people who care for them so deeply. Dr. Behrens has seen and truly enjoys the bond that is shared between people and their pets and feels fortunate to play a small part in that amazing relationship.
Pets & Hobbies
Dr. Behrens is a pet owner as well and has a mixed-breed dog named Eli, a Pit Bull named Clyde, and a cat named Hitch. Dr. Behrens hopes that she and her Pit Bull-owner/clients can show that these dogs can be great pets when owned by responsible people.
She is also embarrassed that as a vet she has absolutely no idea what breed Eli is! She does, however, call him her little Dingo, since this is what he resembles most.
Beyond her veterinary work and caring for her pets, Dr. Behrens likes to hike and generally be in the great outdoors. She also is the proud owner of a Harley Davidson motorcycle and enjoys the wind in her face, the freedom of the open road and sharing the love of the rumble with those from all walks of life.
Request Appointment
Located at 1435 Zoo Parkway, Asheboro, NC 27205, Animal Hospital Randolph provides complete veterinary medical and surgical care as well as boarding for dogs and cats from Randolph County and surrounding areas.