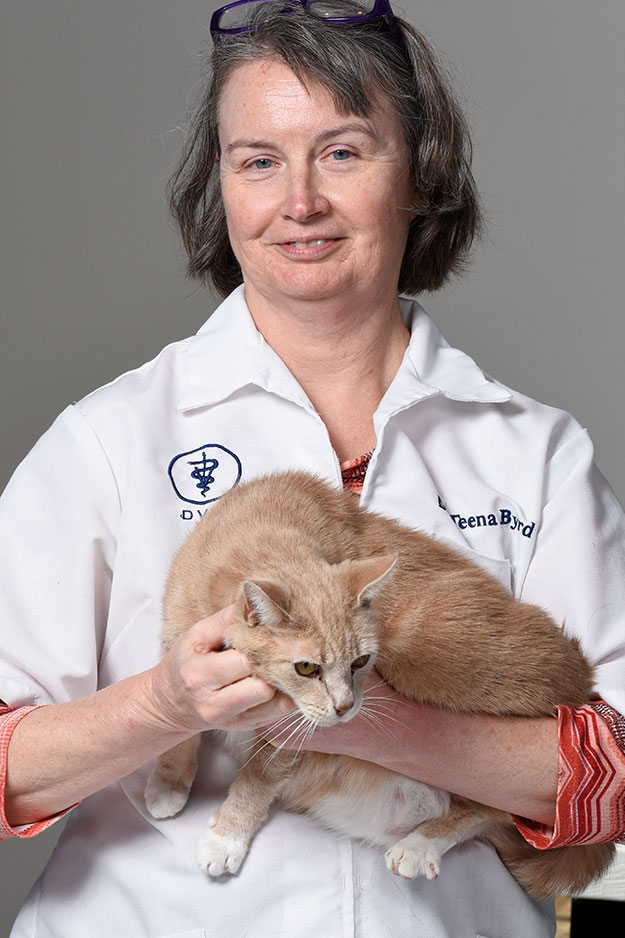 Dr. Teena L. Byrd, DVM
Dr. Byrd first worked at Animal Hospital Randolph from September of 1991 through December of 1999 and then returned to the Hospital in July of 2002. She majored in Animal Science at the University of Tennessee at Knoxville and then earned her Doctorate in Veterinary Medicine from the University of Tennessee's College of Veterinary Medicine.
Her areas of particular interest are behavior, internal medicine and dentistry.
Dr. Byrd's early years were spent in Ohio where her family lived in Cincinnati and then moved to Columbus and from there to Urbana. Then at age 14, her family moved to East Tennessee where she lived during her high school and college years.
It was during her childhood growing up with a number of dogs and cats that Dr. Byrd developed her love of animals. She enjoyed playing and interacting with them and decided at a young age that she wanted to have a job helping care for animals. As a veterinarian, Dr. Byrd says that she thoroughly enjoys the sciences and the ever-changing knowledge she is able to acquire the longer that she practices. This career can never get stale, she says, because there is so much to learn.
Perhaps, though, what keeps her work from becoming stale more than anything else is experiencing the moment when a happy and well pet is reunited with its previously worried and anxious, but now relieved owner.
Dr. Byrd has served as a member of the Randolph County Board of Health since 2002 and has been chairman since 2007. She has lectured on behavior topics for the Canine Corps and is a Humane Society of Randolph County foster parent.
Pets & Hobbies
Dr. Byrd also shares her life with a number of pets, including a Quarter Horse gelding named Breeze, a Shepherd mix named Karla, a Golden Retriever/Husky mix named Charlie, a Feist mix named Crissy and three cats: June Bug, Trip and One-Eye. When not engaged in animal-care related activities, Dr. Byrd enjoys horseback trail riding, Tai Chi Chuan, yoga and hiking.
Request Appointment
Located at 1435 Zoo Parkway, Asheboro, NC 27205, Animal Hospital Randolph provides complete veterinary medical and surgical care as well as boarding for dogs and cats from Randolph County and surrounding areas.