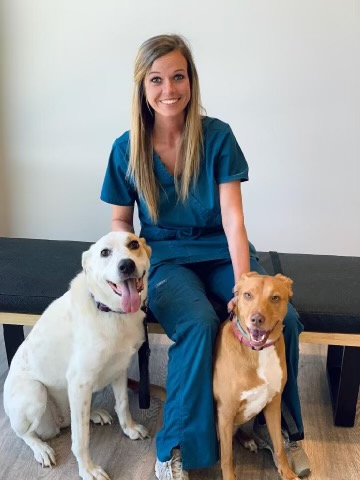 Veterinary Assistant
Hi! My name is Leslie Yannuzzi and I am a veterinary assistant. I chose this field because my passion has always been to work with animals. I get to speak for those who have no voice. I have four dogs; Cinnamon and Stella are both female mixes consisting of something special and I have Champ and FatBoy who are both blue pit bulls.
Things I enjoy outside of work are going to the beach, fishing and watching Land and Order SVU.Caitlin Holliday: My name is Caitlin Holliday and I am a veterinary assistant who is currently studying to become a licensed veterinary technician. I chose this field because I enjoy making people and animals happy. Animals deserve to receive great care and seeing cute puppies is a perk I enjoy the most. I have two dogs; Dipper, my sensitive boy boxer, Mable who is my mischievous husky, Anastasia who is a dog trapped in a cat's body and finally Cinder, my bearded dragon. My hobbies consist of going out and about, hiking, training my dogs, watching game plays along with food competitions and history shows. I love to cook, but most of all, I like to try new things in life.
Request Appointment
Located at 1435 Zoo Parkway, Asheboro, NC 27205, Animal Hospital Randolph provides complete veterinary medical and surgical care as well as boarding for dogs and cats from Randolph County and surrounding areas.